Subtyrannya
Subtyrannya - A Dystopian Merchant Simulator - Update #W9
---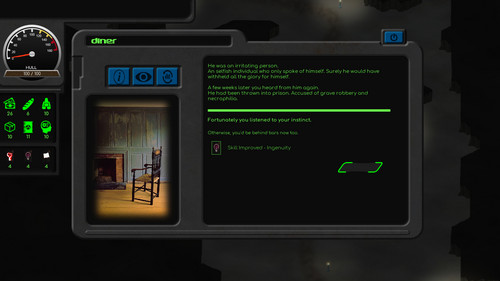 Greetings fellow citizens of the underground,
this is Subtyrannya, a dystopian merchant simulator with strange vibes, mystery and a whole lot of secrets for you to discover.
You play as a lone merchant with his vehicle, driving trough the colonized underground on the search for wealth, knowledge and one or two other things.
Demo? Whats a demo?
I was really lazy this week.
I tried writing some more, but sometimes it just doesn't want to happen. As I write these lines here, there is still one hour left from Monday and that is by far not enough time to publish something that is also enjoyable to play. But you can look forward to next week! ...hopefully.

Of course I managed to do a little bit of work. Lights flicker and billow now and shine ominously as you drive by. The chance for this flickering to happen still has to be adjusted, because with the current setting every second it sparks and flashes somewhere. The whole thing could be a very nice feature for the future, e.g. in an area where the power disappears every now and then, but at the moment it's just a bit annoying.

Apart from that I again played around in Photoshop and produced a cover and a banner, which now decorate this post and the one on Itchio. There has been some feedback that the whole thing looks too neat and clean right now, but I think I'll try my hands on that at another time. At least it's a positive step away from the very amateurish stuff from the beginning.

Changelog #W8
-Made light flicker and sometimes break for a short time.
-Made new Cover Image
-Made new Banner Image
-Added Collision in the tutorial rooms and fledged out the design
-Added the Abandoned Gateway in both Sprite and Content and Animation
Next Weeks Update:
A playable tutorial area.
Unfortunately, I always overdo myself every time, which is why I now try to create a more minimalist structure that I can gradually add more complexity to.
So the basic structure can be built and played faster and hopefully I get more constant feedback.